This was kind of a difficult activity to categorize, because I suppose it could be a hike if you wish, although it's more of just a "drive-and-see" kind of a thing. We drove up into Island Park this weekend to get a look at Sawtell Peak. It's pretty easy to find coming from Rexburg. When we went, it was a nice warm day, but by the time we got to the top, it was cold and windy. We noticed that the temperature dropped by close to 25 degrees, so be sure to bring jackets or blankets.
The view from the top is absolutely breathtaking. From the top, you're to see the mountain range that divides Idaho and Montana, as well as a Henry's Lake directly beneath you. You can also see parts and pieces of Yellowstone National Park. At the top, you're around 9900 feet above sea level. The road getting to the top is a gravel road, but it's very well maintained, because there are observatories and cell towers on the top of the mountain, which means you can easily use a passenger car to get there. My Honda Accord had no problem traversing the road, and there weren't any sudden potholes or anything to avoid. There are quite a few switchbacks, however, with sheer cliffs, so be careful.
Due to snow, the road is closed from November 1st through June 1st.
Directions:
Follow the map below for visual directions, or you can use my written directions underneath:
1. Get on Highway 20 going North (like you're headed to St. Anthony). Take a look at your odometer. The turnoff in Island Park is approximately 61 miles from Rexburg.
2. You're going to take a left turn onto "Sawtell Peak Rd." at the end of the 61 miles. There is a sign that says, "Sawtell Peak Rd.", but you can also know you've found it when you see a sign that looks like this: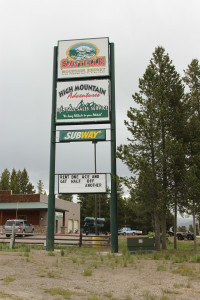 3. Follow that road for 12 miles. It'll take you all the way to the top. It's pretty obvious that you've found it, as you'll see this at the top: