I'm all for a great hike. Especially hikes that I don't have to drive super far to get to, or hikes that aren't super strenuous, either. The hike up to Packsaddle Lake is exactly that. It's a relatively short distance from Rexburg, it's not too strenuous (you drive up most of the trail), and it has an exceptional view. It's hard to believe that more people haven't heard of it. If you're short on time, but still want to get outside, this is definitely one of those hikes that you have to do. We left Rexburg around 12:15 and got back around 4:30. And we definitely weren't rushing ourselves at all. We took our time, hiked all the way around the lake, played on the rope swing, etc.
We went this last weekend (in June), and had no problems with the terrain at all. I've done this hike previously in October or November, and the roads get pretty muddy with lots of snow. If you have a truck or SUV with 4-wheel drive, I'd recommend it. But we went out in my Honda Accord and were able to make it fine as well. Just take the roads slow and you'll be fine.
To get here, head North on Highway 20 as if you're heading to St. Anthony. Then, take exit 339 towards Driggs. From exit 339, watch your car odometer and travel exactly 25.3 miles until you see this "Hoopes, Ehco Ranch" sign. Turn right here.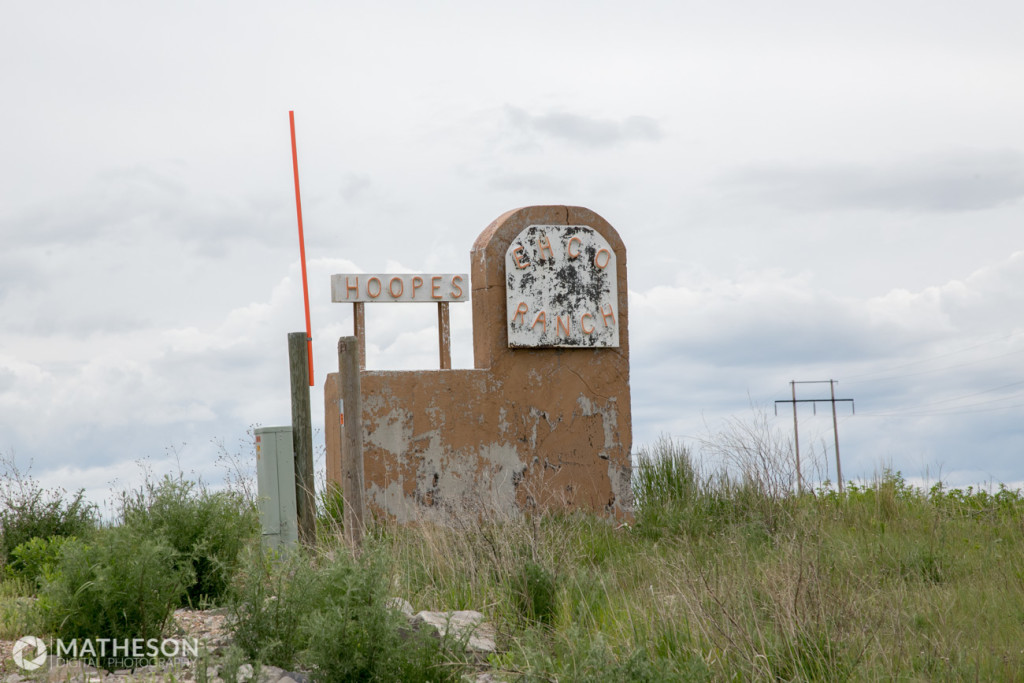 After this turn off, you'll drive straight on a dirt road for 4.2 miles until you eventually come to the following fork in the road. Take the road to the left.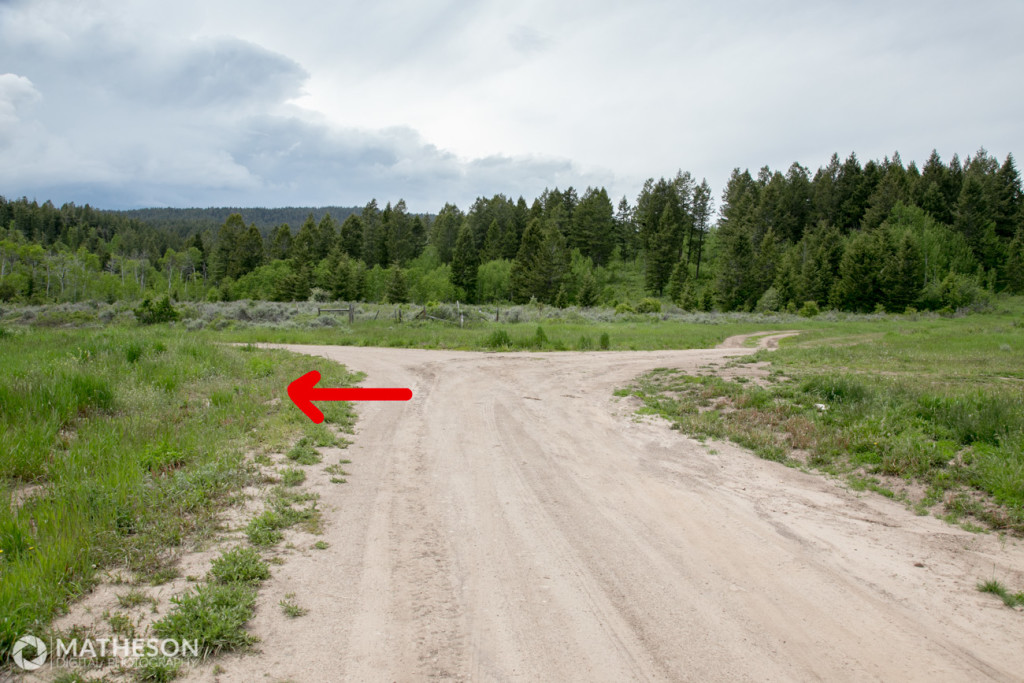 After driving another 1.7 miles, you'll come to an area that runs into an old wooden corral, and the road heads off to the left. There's a sign that says "Packsaddle Lake Rd." At this point, turn right. Honestly, you can make the hike as long or as short as you want. If you're looking for a longer hike, I'd park at the fence here and begin walking up.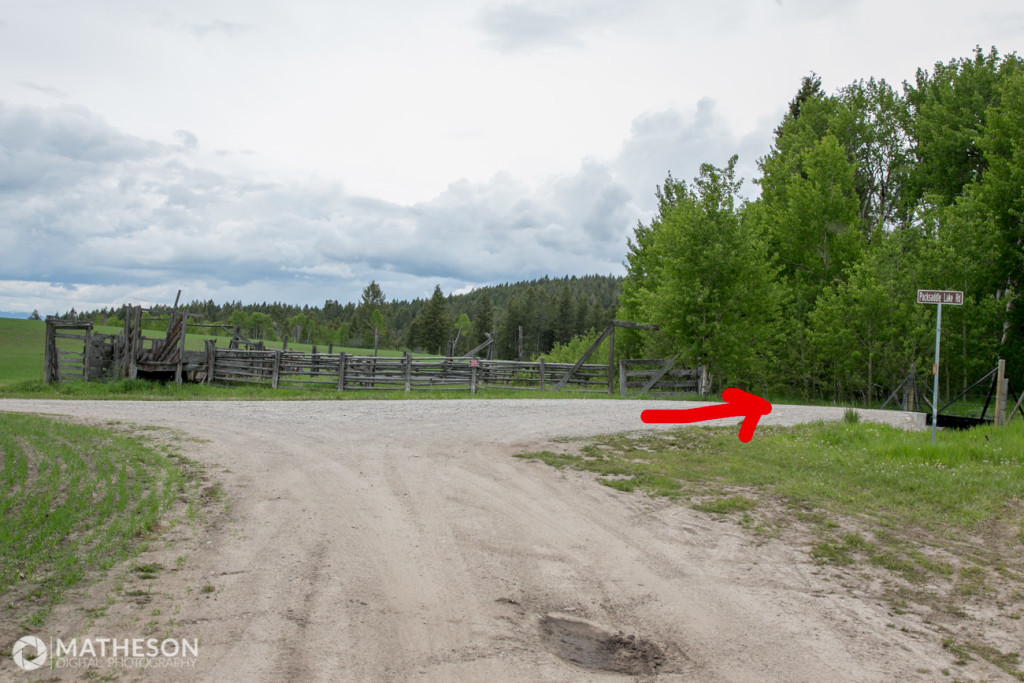 Continue driving straight, and the road will wind through beautiful meadows, and tons of trees.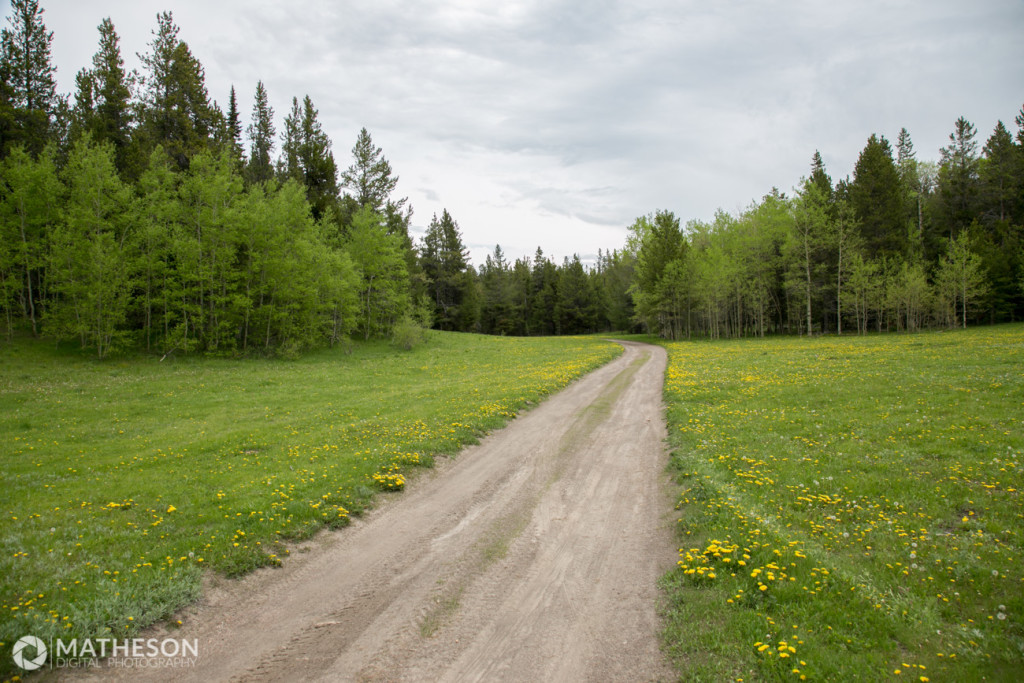 The Sound of Music, anybody?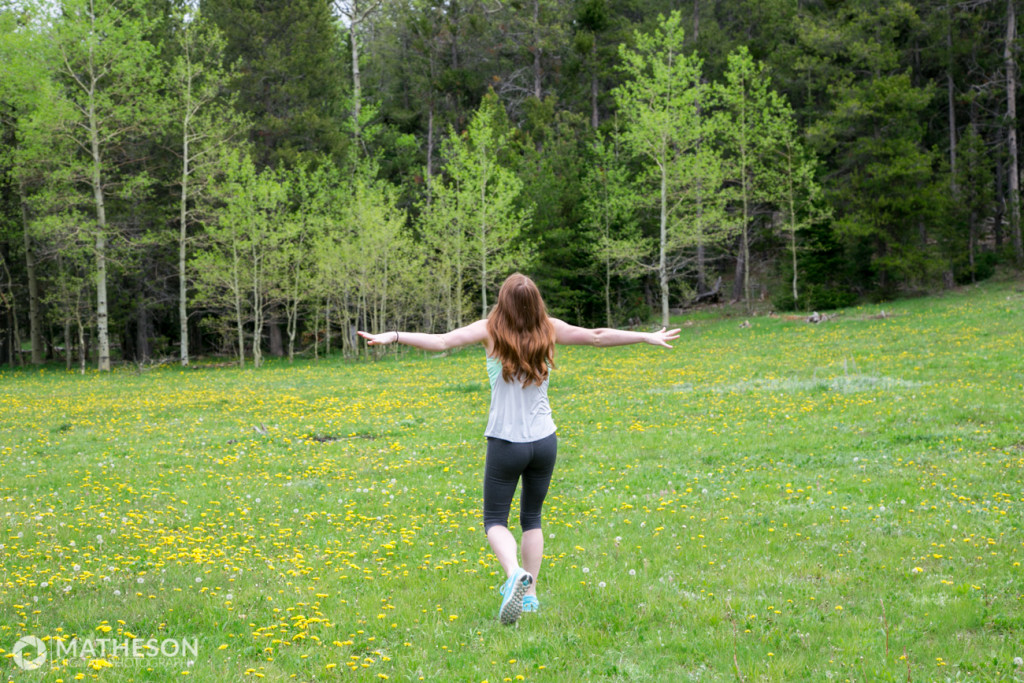 After turning onto Packsaddle Lake Rd., 1.8 miles down the road, you'll run into one last fork in the road. Take the left fork. At this point, unless you're driving a truck or SUV (we were in a small passenger car), I'd recommend pulling off to the side of the road and parking. The road up ahead is pretty steep, and there are lots of ruts in the road that I wouldn't chance in a smaller vehicle.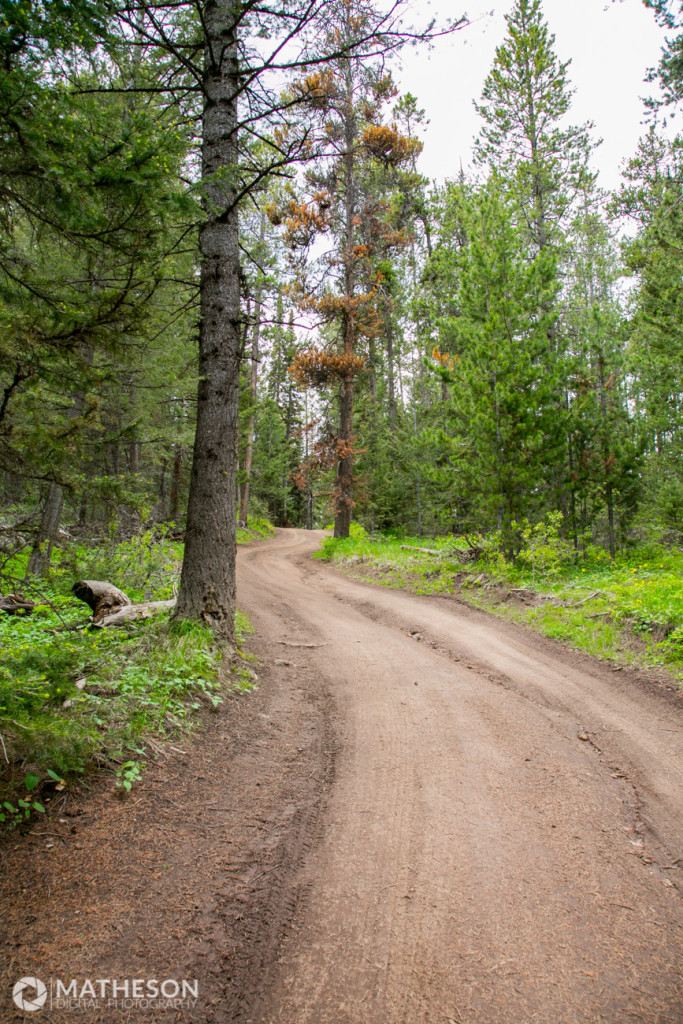 The hike from here isn't very far to the top. No more than half a mile to a mile. Keep your eyes open for flowers and other scenery.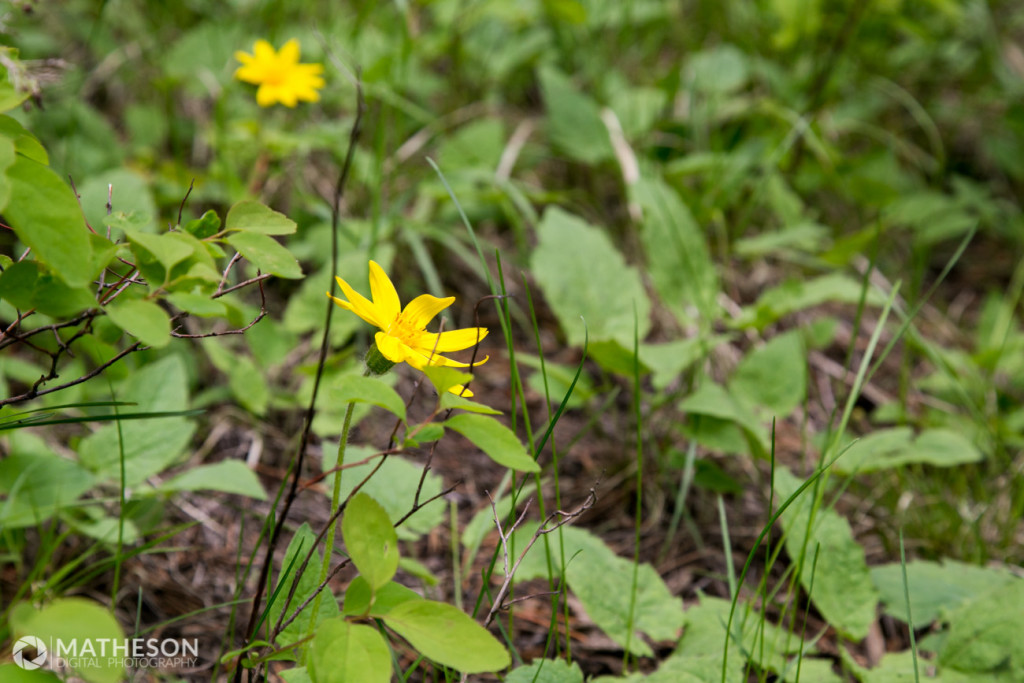 As you reach the top of the hill, look behind you to see the Tetons off in the distance. Unfortunately, our hike was cloudy, so we weren't able to see much. But on a bright, sunny day, you have a straight shot of the mountains with a great view of the valley below.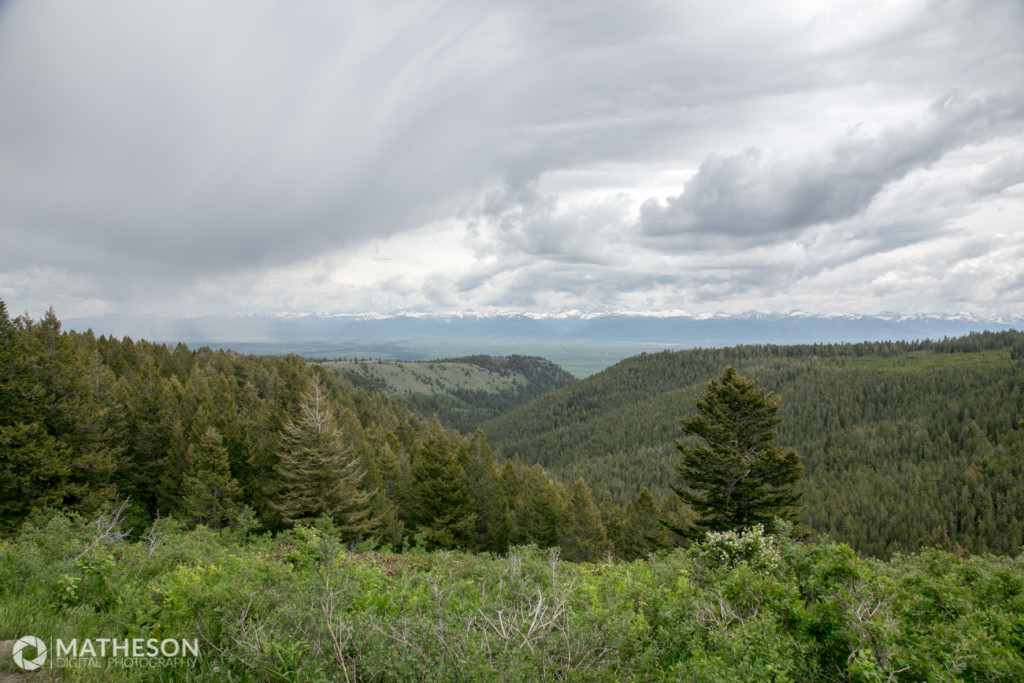 Continue a little bit farther up to the top of the hill, and off to your left, you'll notice another trail decending steeply. As you begin the descent, you can see a small portion of the lake poking out.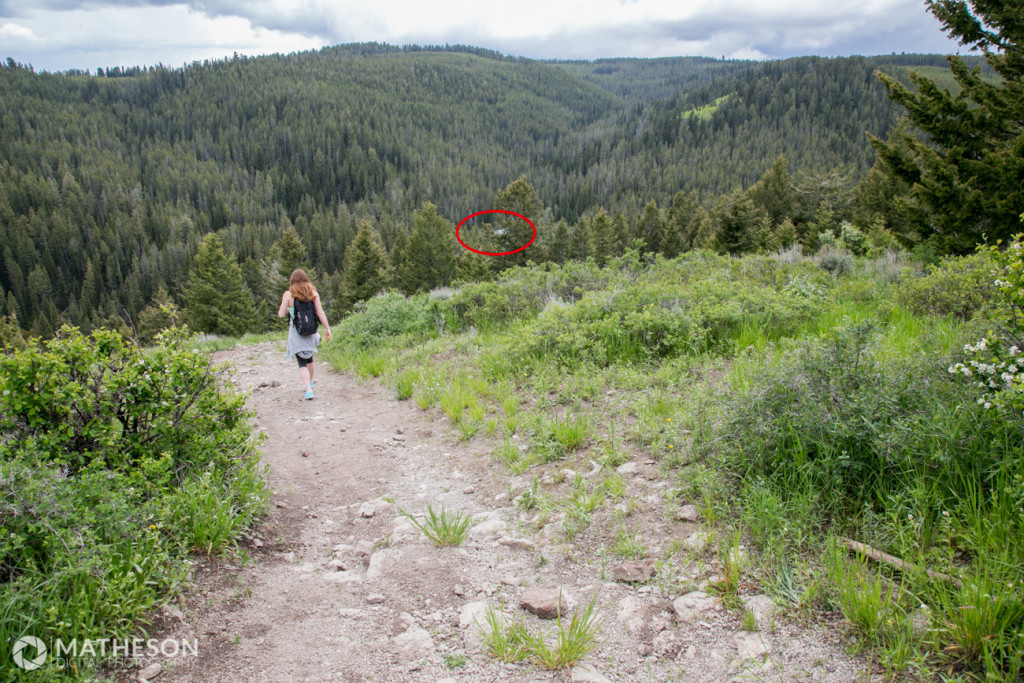 Careful as you hike down, as the trail is very steep. But in no more than a quarter to half a mile, you'll be at the base of the lake.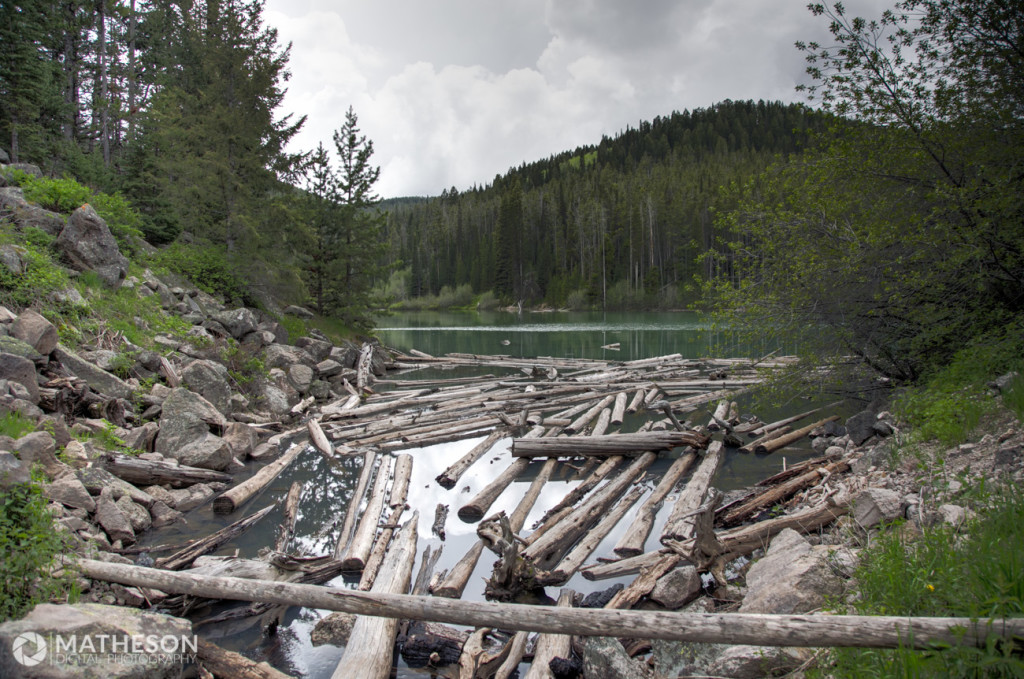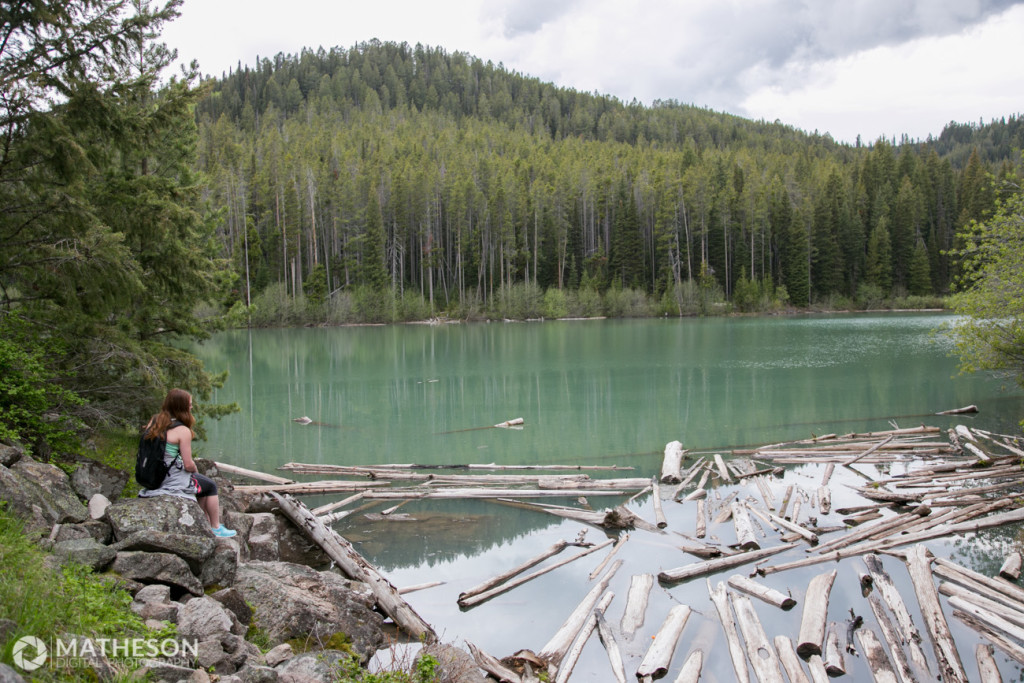 Continue a bit farther down the trail, and you'll find a rope swing.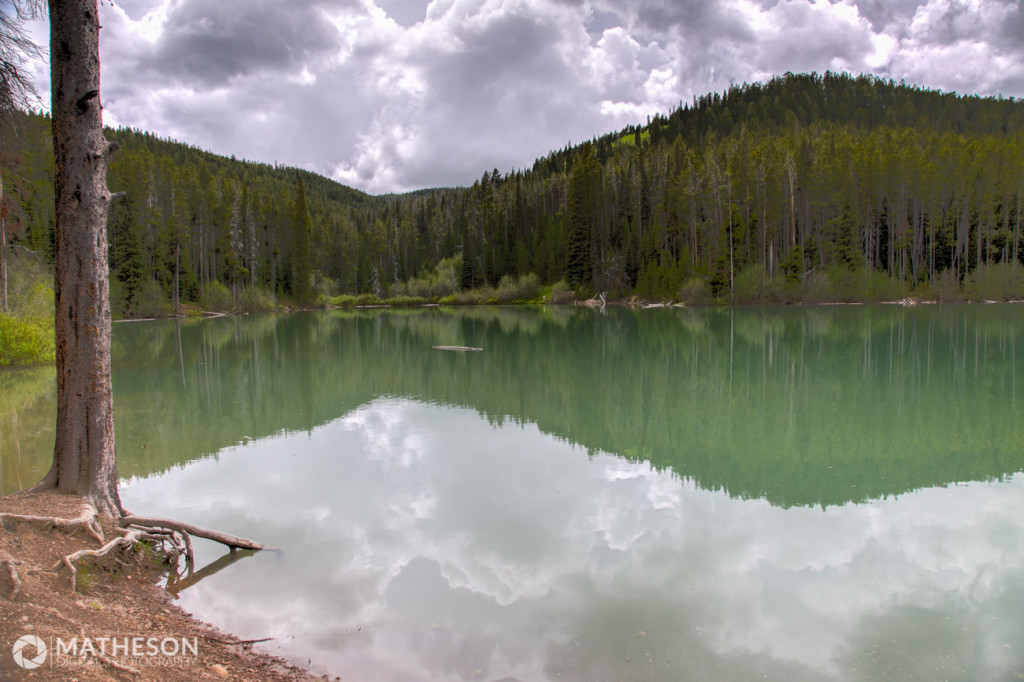 I know this isn't creepy at all, but how cute is this little girl? She was sitting quietly watching her family swing on the rope swing. Aren't those pants killer?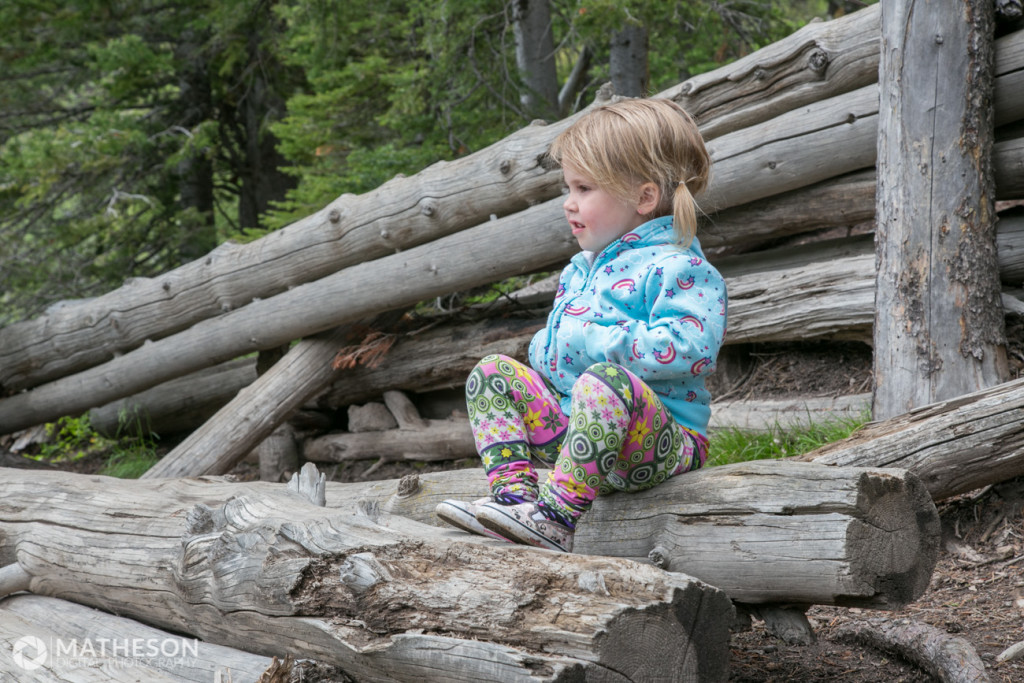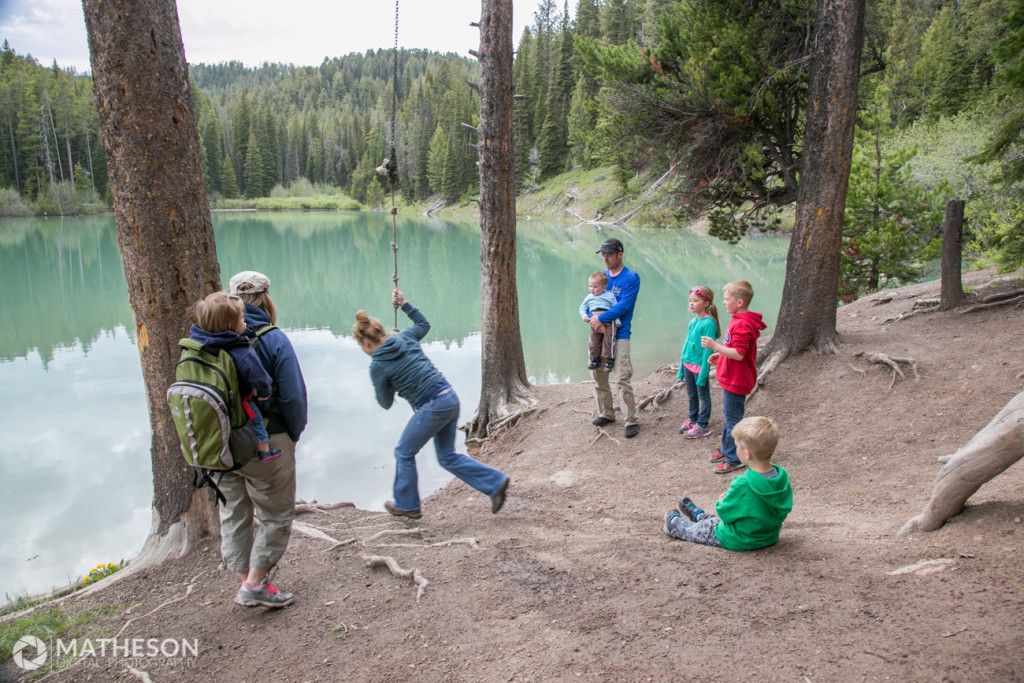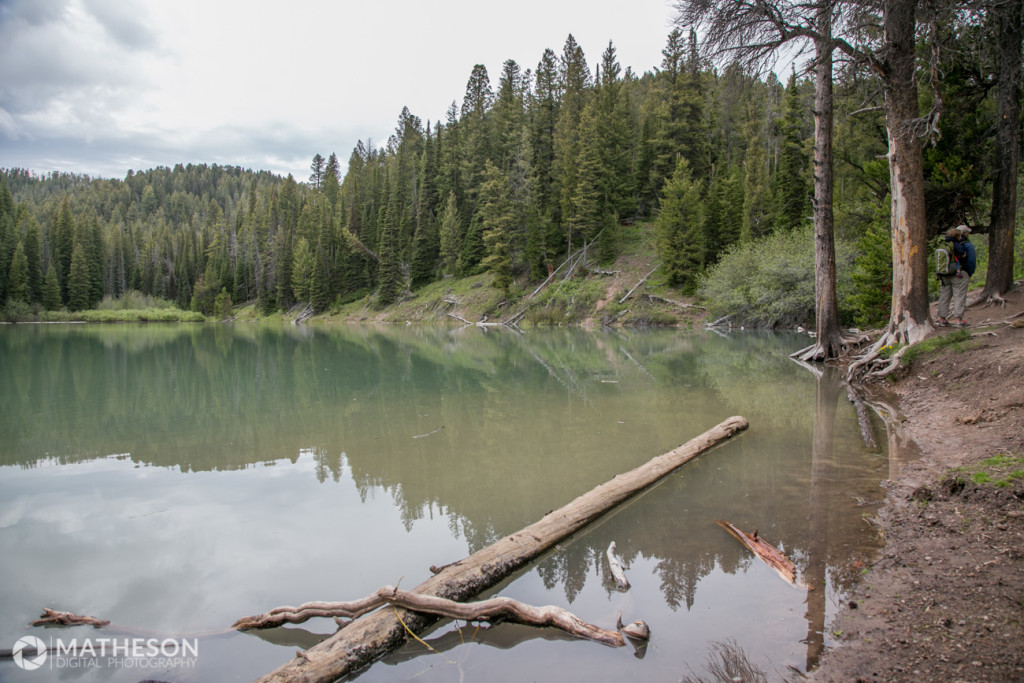 The water was cold (it's June), but give it another month or so, and the water will be super refreshing after the hike down.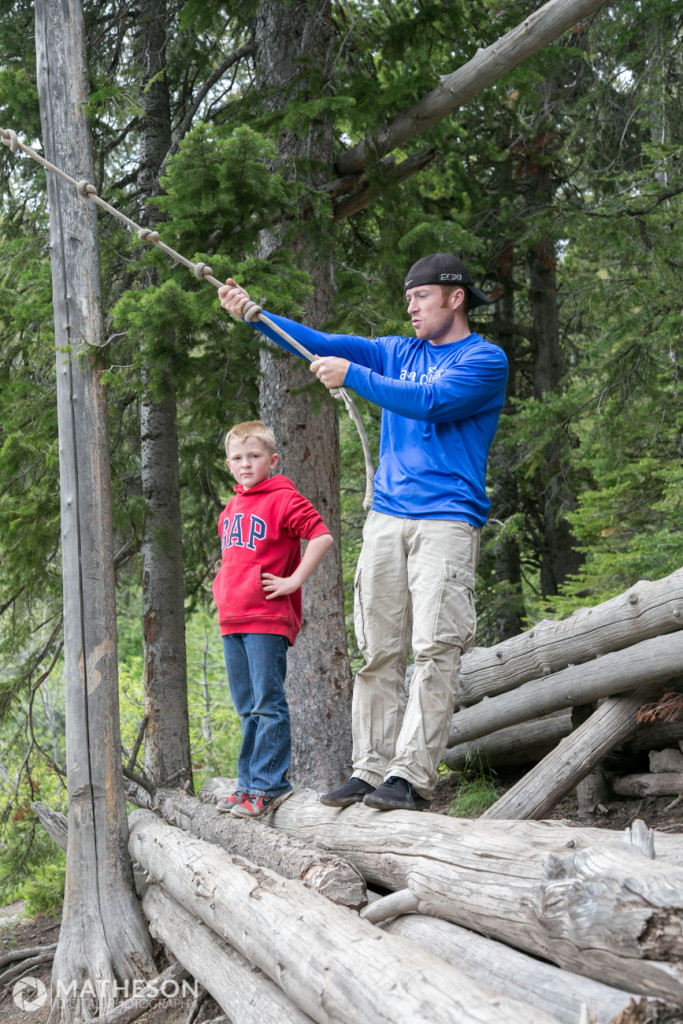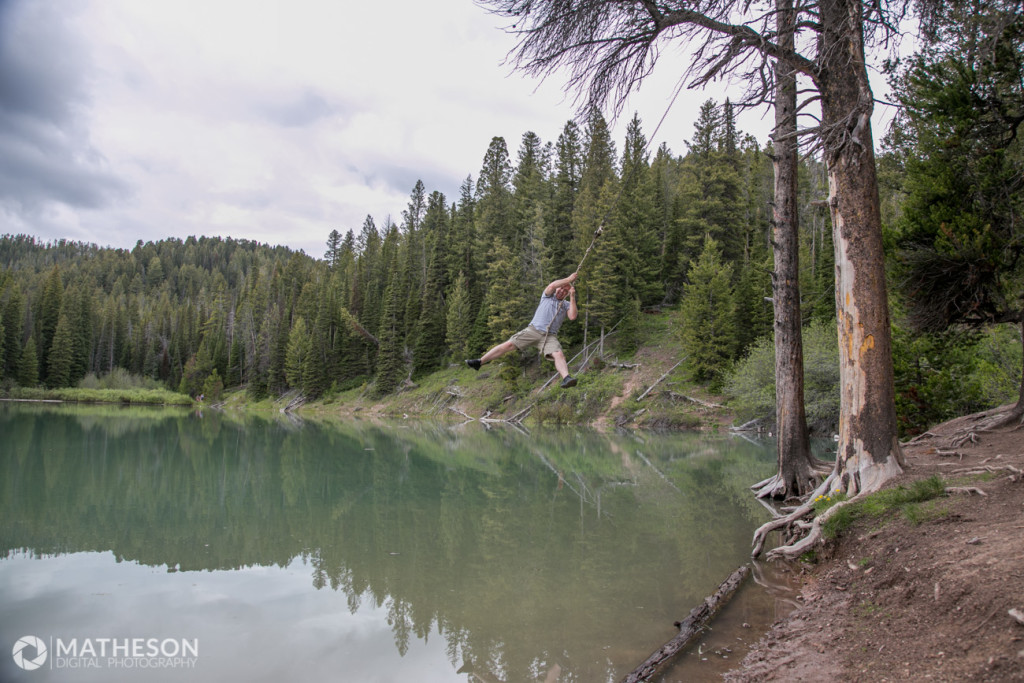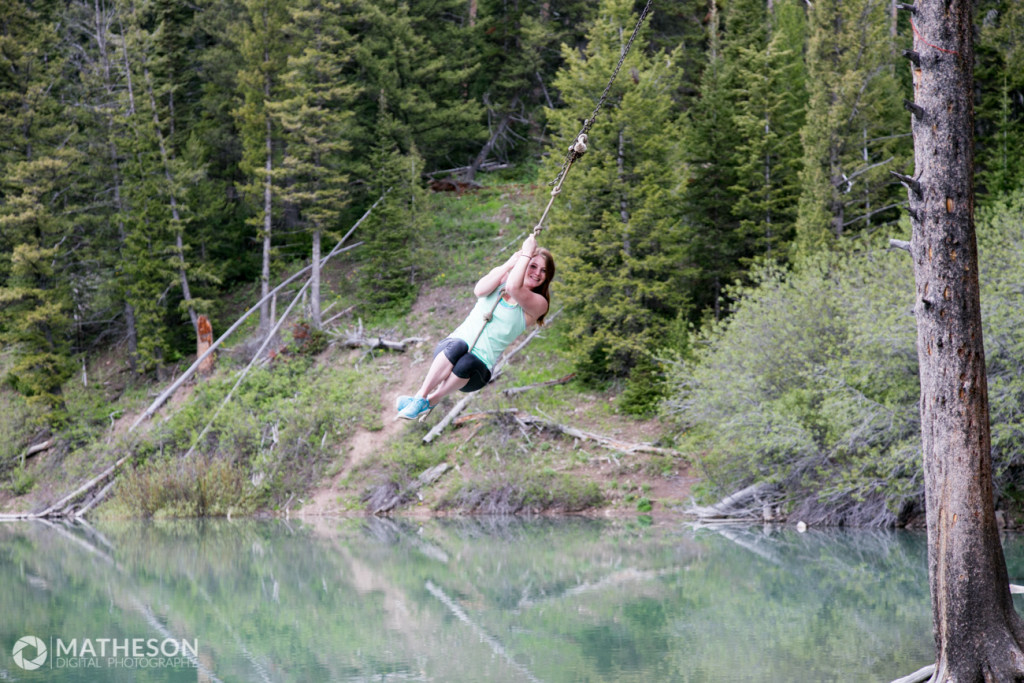 We decided to hike around the entire perimeter of the lake. In some places, there was a pretty defined trail. In others, the trail seemed to disappear completely, so we kind of blazed our own. All in all, it's a great hike, and I highly recommend it.