I'd be lying if I said that I wasn't a little bit embarrassed living so close to Yellowstone for so long, and having not made the trip sooner. I've lived in Idaho for almost three years, and only recently made the effort to go up this past Memorial Day weekend. It was absolutely stunning. The only problem was that we had one day to see the park, and we wanted to fit as much in as we possibly could. After researching and looking around the internet a bit, we planned the perfect day in Yellowstone. It allowed us to see the main attractions of Yellowstone, but not have to worry about lodging or spending a ton of money on meals.
From Rexburg, the entire trip was exactly 350 miles, with about 170 miles of that being spent in the actual park. If you're not interested in reading the detailed version, here's the quick version of the route we took. We started at the West Entrance and then saw:
1. Grand Prismatic Spring
2. Old Faithful
3. West Thumb Geyser Basin/Yellowstone Lake
4. Grand Canyon
5. Tower Falls
6. Mammoth Hot Springs
Detailed Version
We began early in the morning. We planned on leaving Rexburg around 8:00, but after getting everyone in the car and filling up on gas, we didn't get on the highway until 8:30. The drive up through the canyon was absolutely gorgeous. You pass through a few small towns such as Ashton and Island Park. You drive on a skinny two-lane highway pretty much the entire time. Google overestimates the amount of time it takes to get there. After getting off the highway, you take two turns through the small town outside of the park, but we were at the West Entrance of Yellowstone by about 9:45. Be sure to get out and take some pictures just outside the toll gate in front of the Yellowstone sign.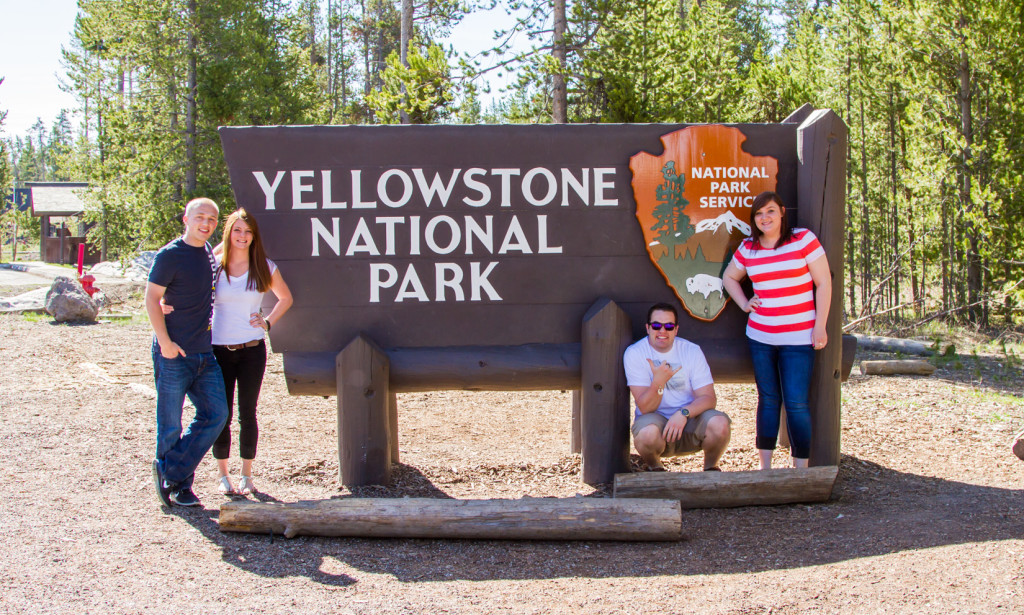 The entrance fee was $25 per vehicle, which I initially thought was pretty steep (on our college budget), but after seeing everything in the park, I realized that it was well worth it. There were four of us in the car, so we split it all evenly. Because we went on Memorial Day, the first part of the drive into the park was painfully slow. There was a long line of cars that was miles long, and we weren't really sure why everyone was stopped. We kept inching forward little by little. In the course of 45 minutes, we had only gone about two and a half miles. It actually wasn't all that terrible, though, because the scenery and the wildlife was breath-taking. There were more than a half dozen bison that were so close to the car, you could reach out and touch them.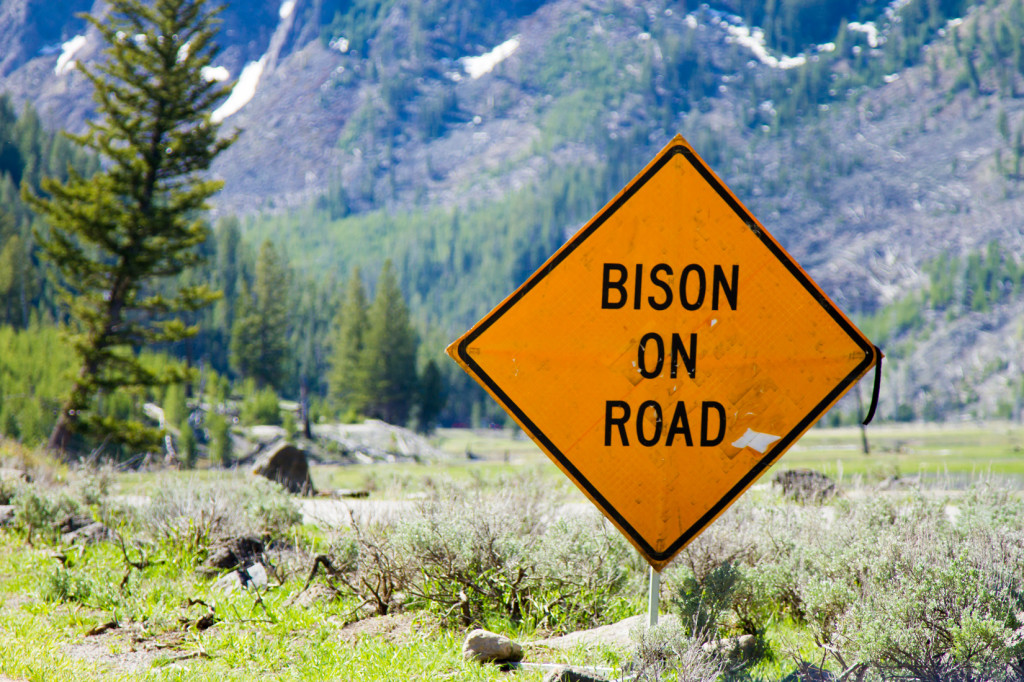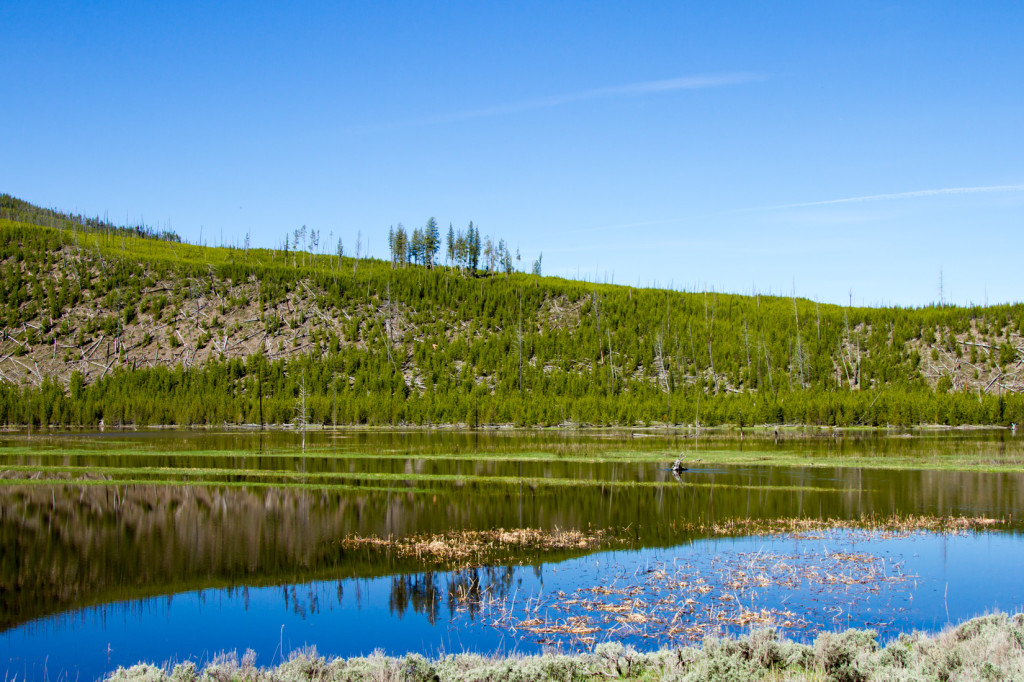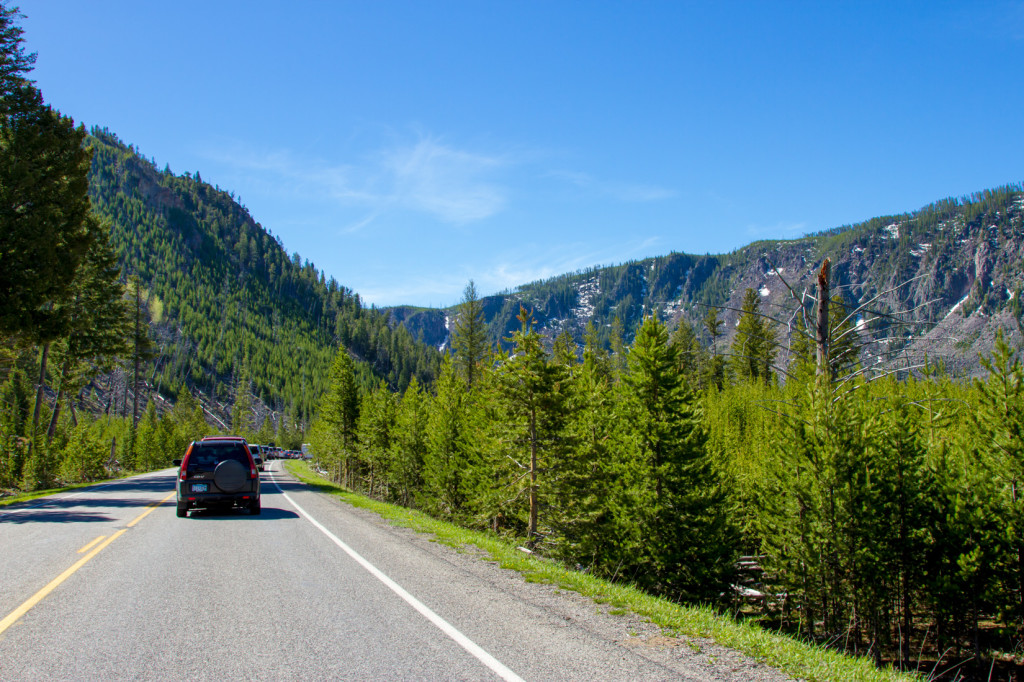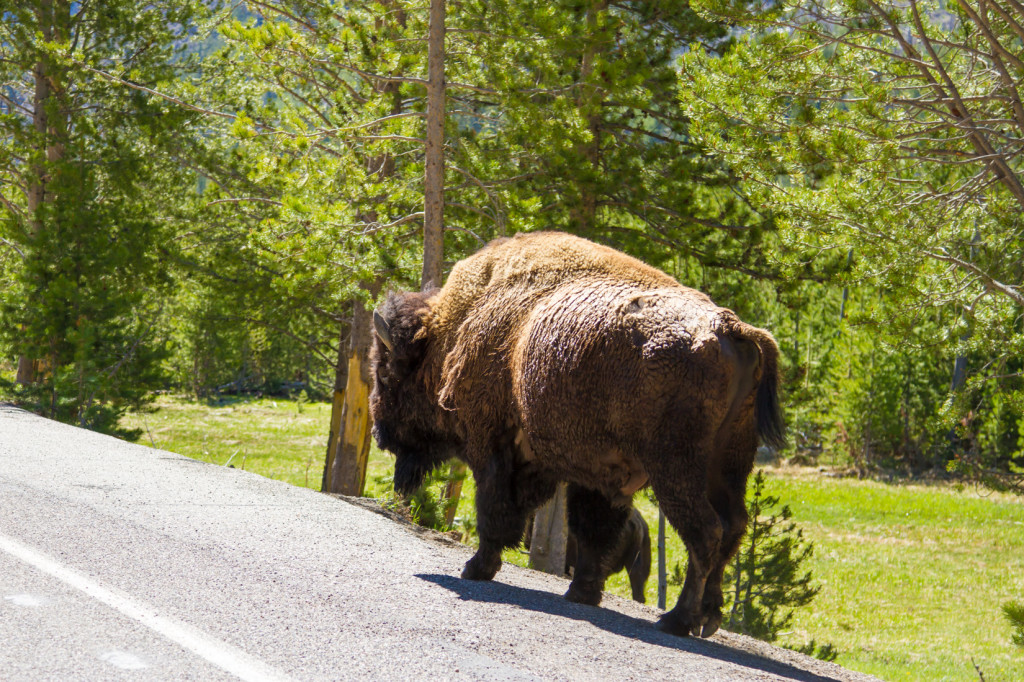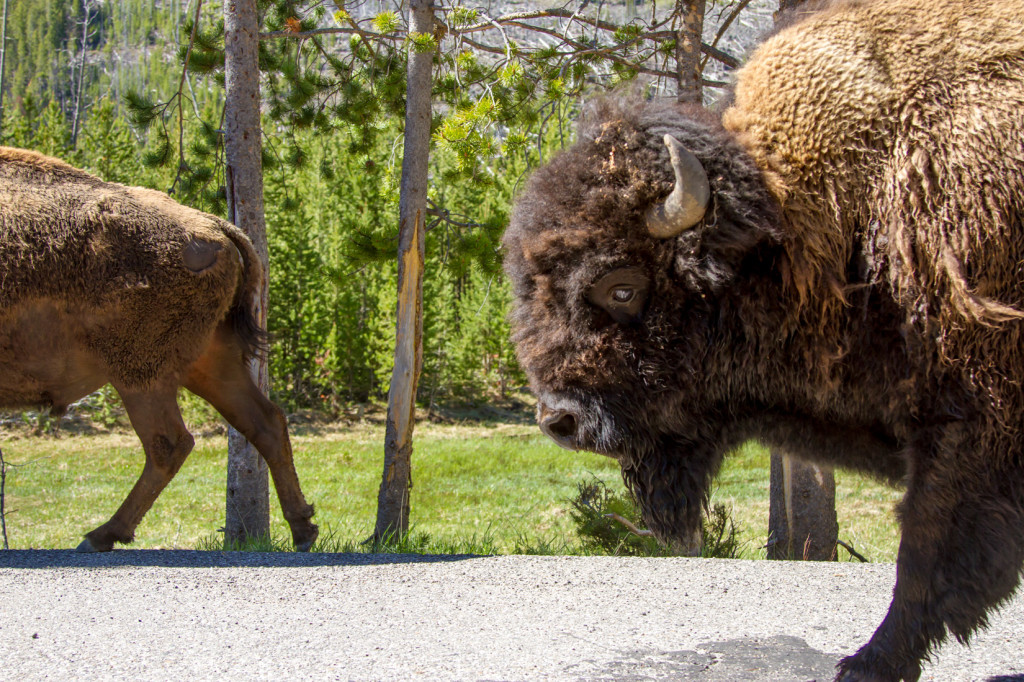 Eventually, park rangers came and essentially said to all the cars in front of us, "Quit looking at the bison. You're blocking all the cars. Move." The line then thinned out and we were able to make up the time we had lost. Fourteen miles from the West Entrance, you'll come to "Madison Junction." Take a right here (turning South), which will take you towards Old Faithful. For the entire day, we basically followed "Grand Loop Road," which will take you to most of the main attractions.
From this point, Old Faithful is about 17 miles away, but there is a stop or two you can take before then. As we were driving, off to the right side, we saw some steam coming up with a big parking lot. We stopped briefly, but ultimately decided to keep going, because these weren't the "big thermal pools." It's not worth wasting the time. Ten miles from Old Faithful, you'll see a sign for "Midway Geyser Basin." This is the place you'll want to stop. As you park and get out, you'll see a bunch of wooden boardwalks leading up to giant plumes of steam. At the top of the hill, you'll come across the "Grand Prismatic Spring." As you walk through sulfuric-smelling clouds of smoke, you'll open up to these color-rich thermal pools. The oranges, blues, and greens from the pools are a pretty neat sight to see. It measures around 375 feet in diameter.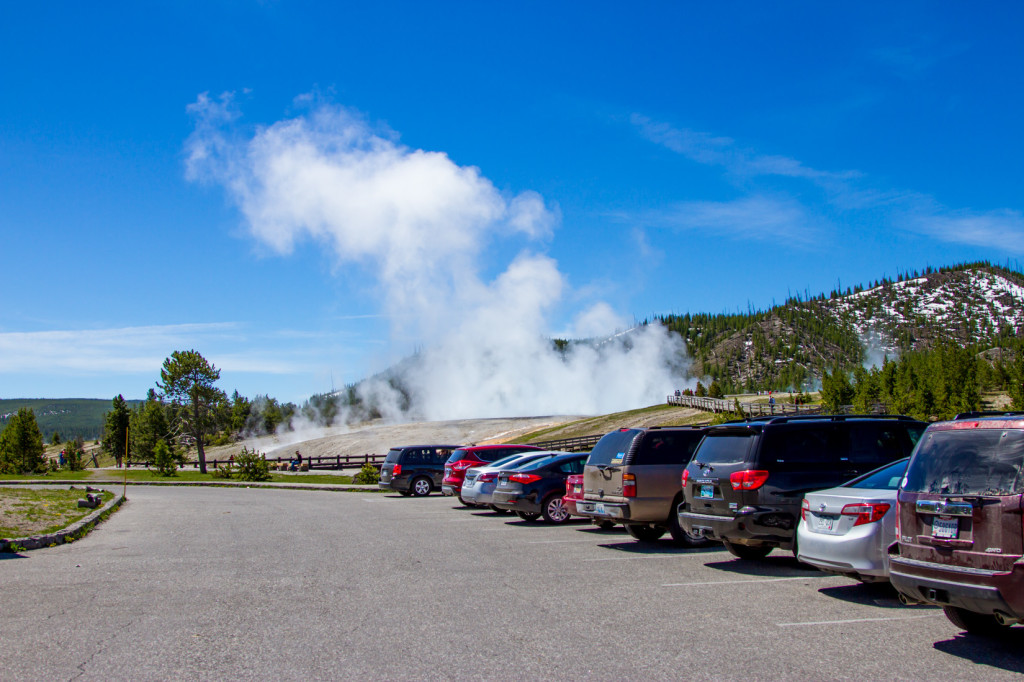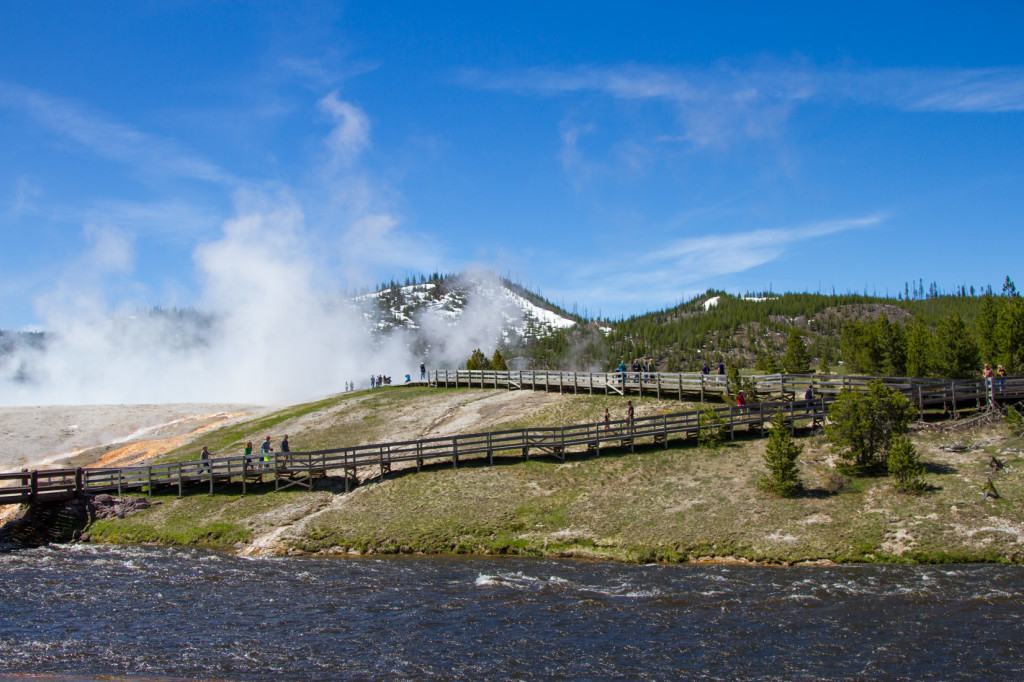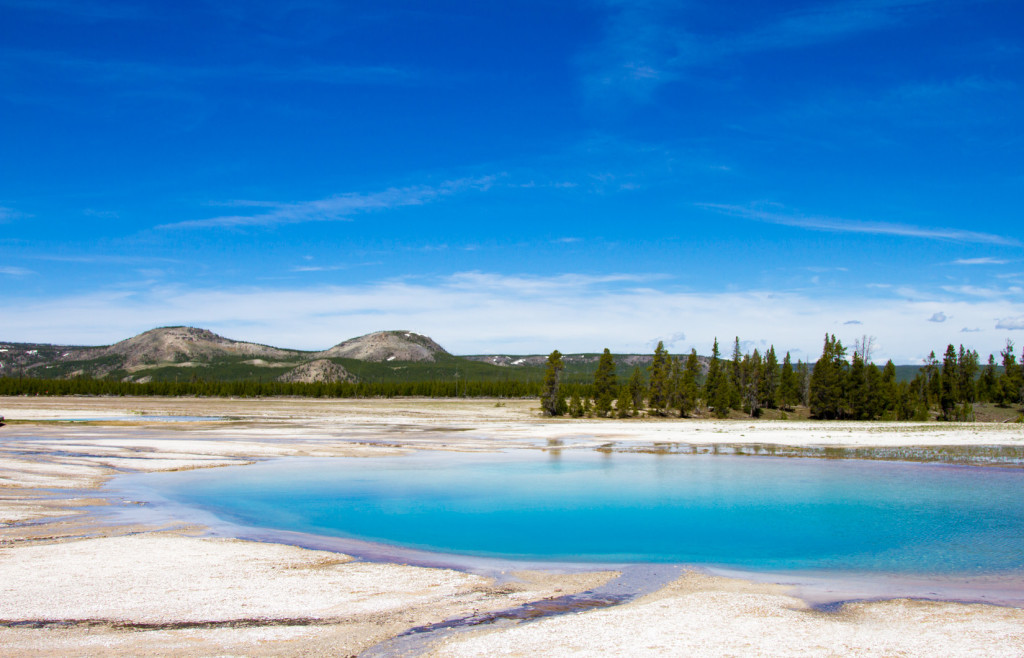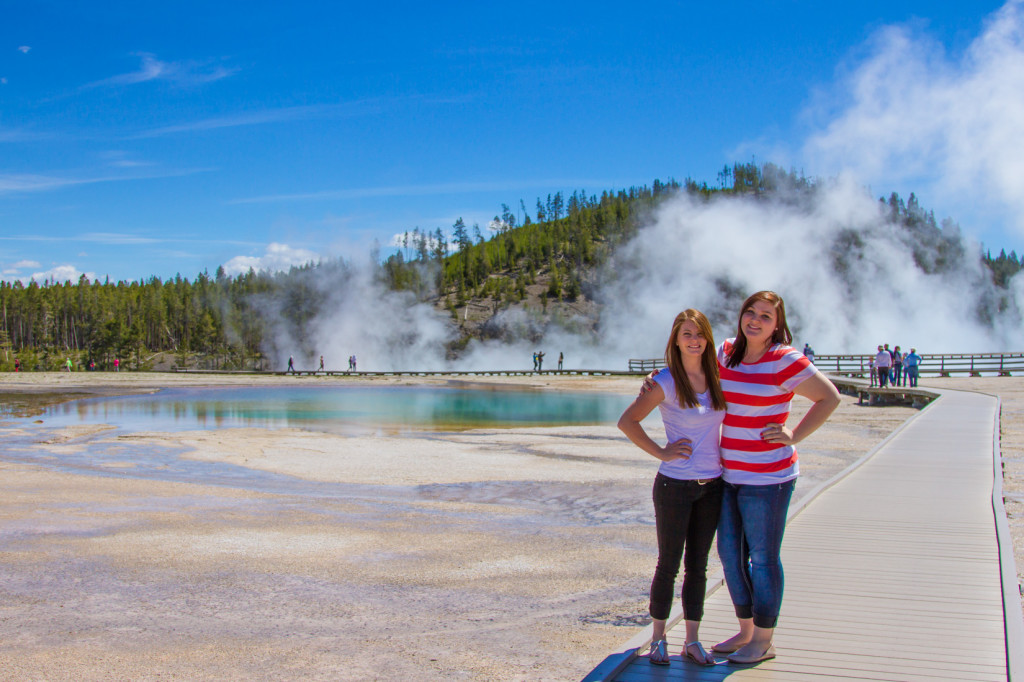 Getting back in the car, continue south another ten miles until you hit one of the park's most famous attractions — Old Faithful. The area around old faithful is huge, with plenty of things to do. The very first thing you should do when you arrive is head into the visitor's center and see when the next eruption is going to take place. There are stands placed throughout the visitor's center saying when it's scheduled to go off next. On average, Old Faithful goes off every 90 minutes. Judging by how much time you have, you can explore the visitor's center, go see the Old Faithful Inn, or go grab a bite to eat across the street.
When we arrived, we had just missed the eruption, and so we had a little over an hour before the next scheduled time. We walked across the street to the "Geyser Grill" to grab some lunch. Here, you pay for overpriced, low-quality hamburgers, but the fries were decent. It wasn't disgusting, and it'll definitely hold you over until dinner, but it's not gourmet by any means. If you choose to eat here, plan to spend around $10/person for a meal.
Head back over to the park, and get a picture by the "Old Faithful Geyser" sign. Then, go get a spot on the benches that surround Old Faithful. There are plenty of benches that all have a good view, so you shouldn't have to get there too early. The "estimated time" that was shown in the visitor's center was spot-on, and Old Faithful went off at 1:45 on the dot. Honestly, I was a little bit disappointed. I've always heard so much about Old Faithful my entire life, but it's really just a bunch of water shooting into the air. The amount of water is truly impressive. They said that anywhere from 3,600 to 8,400 gallons of water is shot off each time, with heights ranging from 106 to 180 feet in the air, but usually only averaging around 145 feet. Either way, it's definitely one of the things to check off your bucket list.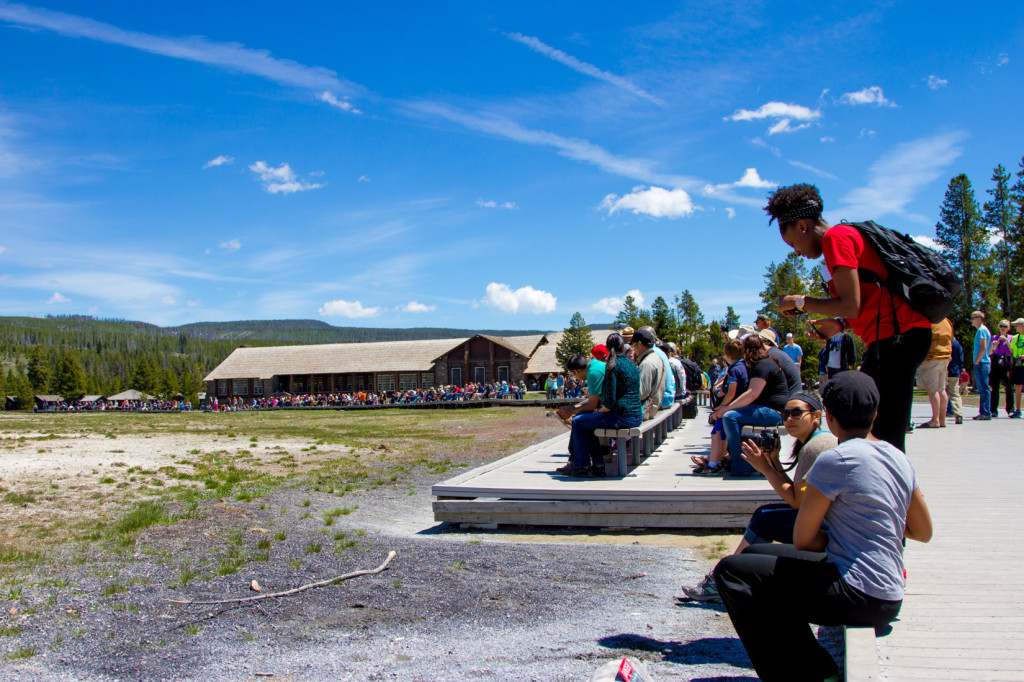 As you get back to your car, follow the signs that lead you back onto the highway. You'll want to head next to "West Thumb Geyser Basin." It's roughly a 20 mile drive. Because the speed limit all around the park is 45 mph, it'll probably take a half hour to 45-minutes to get there. Everyone in the back seat had a quick power nap while we were driving.
This was probably one of my favorite parts of the park. Get out and start walking towards the water. There are two different routes that you can take. The "inner" route and the "outer" route. If you're feeling lazy, you can take the "inner" route which is about 1/4 of a mile walking along the boardwalk. I'd say it's definitely worth it to take the outer route, as it's only 1/2 mile long, and takes you right up against the water. The view is unreal. You can see mountains off in the distance, and the water was crystal-clear. As you walk along the water and the boardwalk, you'll see a bunch of other thermal pools. One thing that was interesting to me was that park of the lake was still frozen, while other parts weren't. As we talked to a park ranger, they told us that there were pockets of hot water all throughout the lake, and that's why those parts were melted, but the rest of the lake wasn't.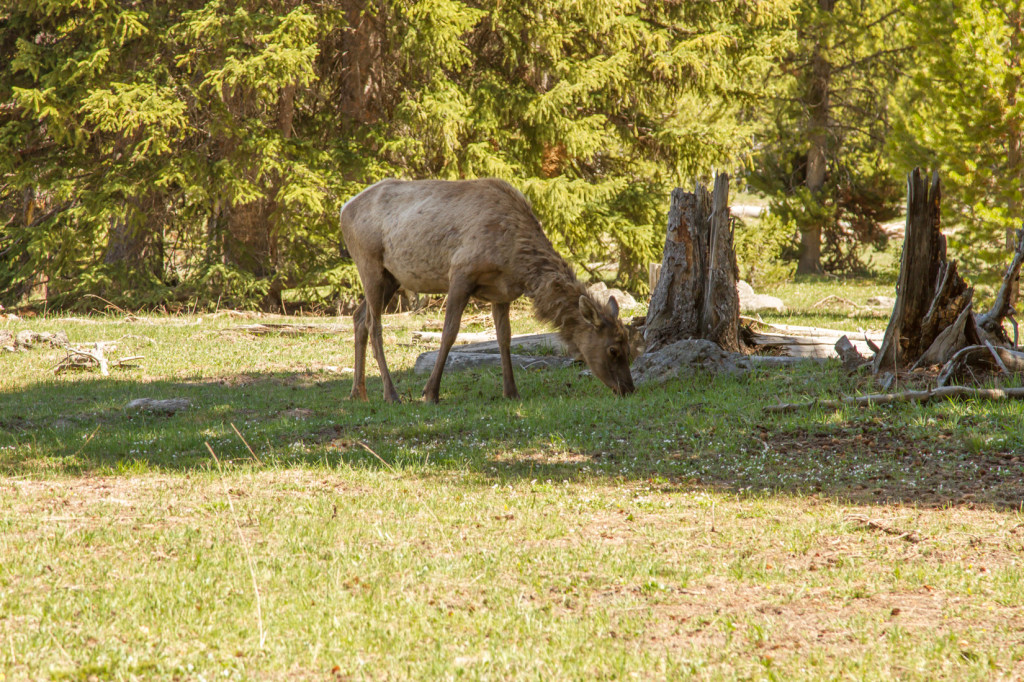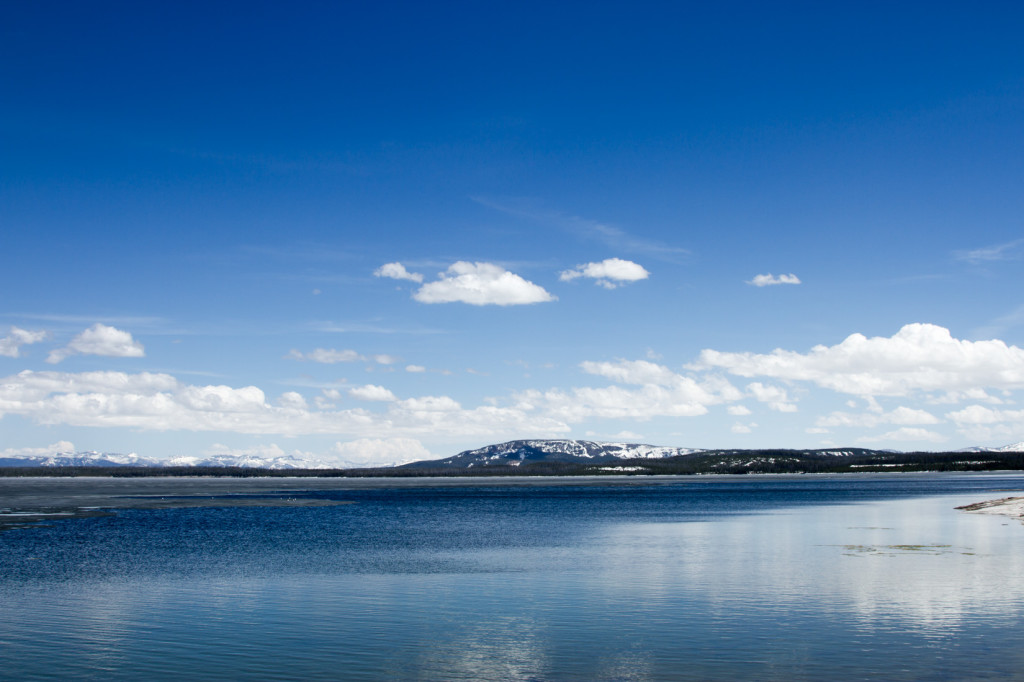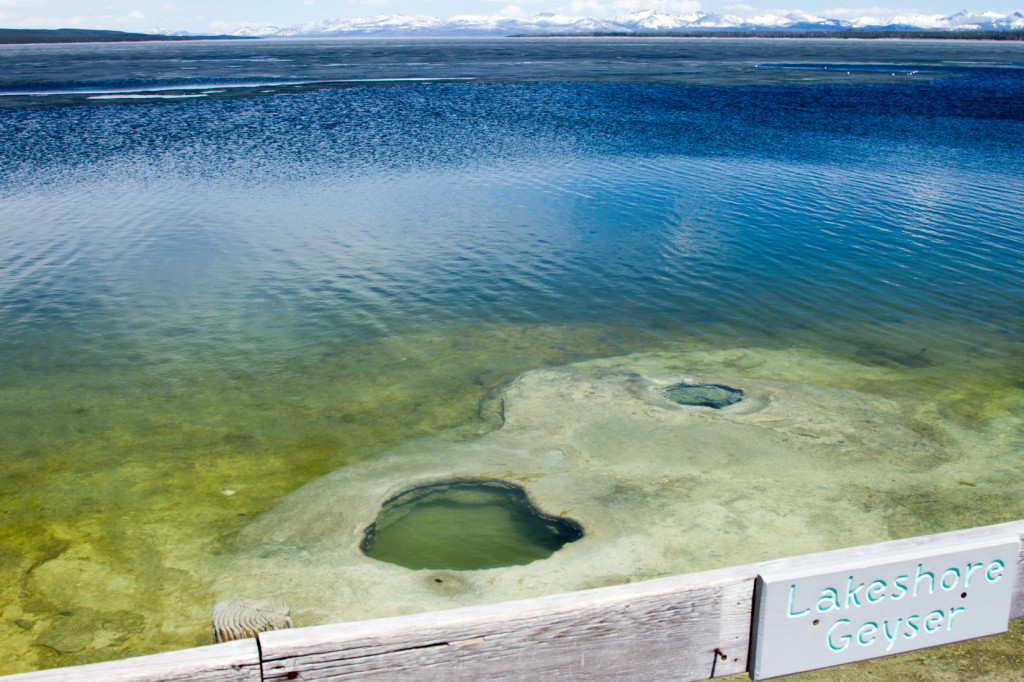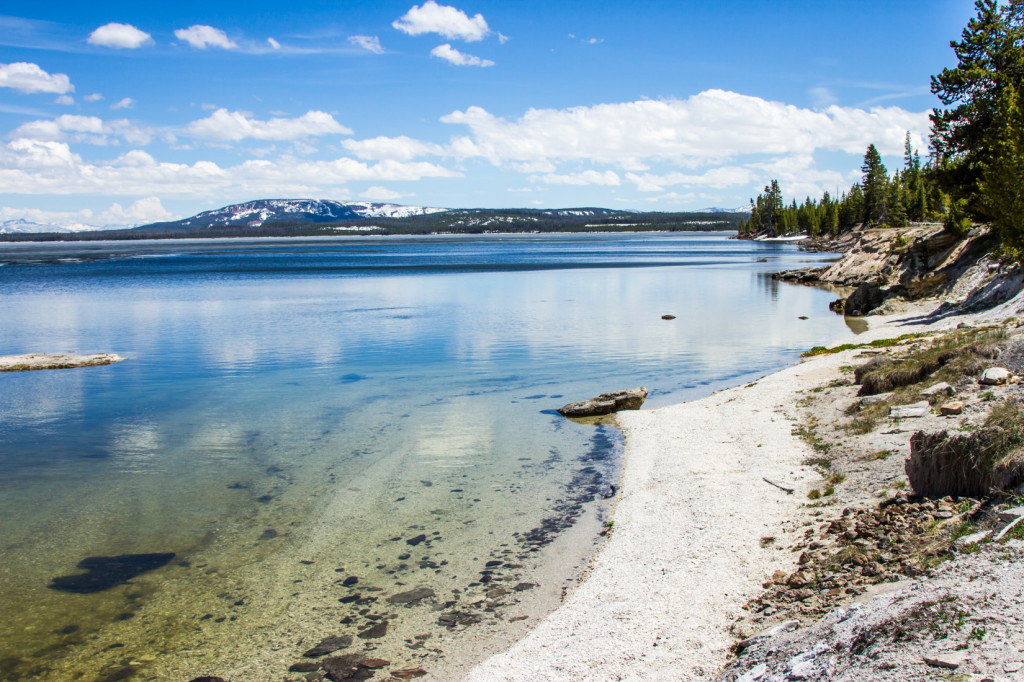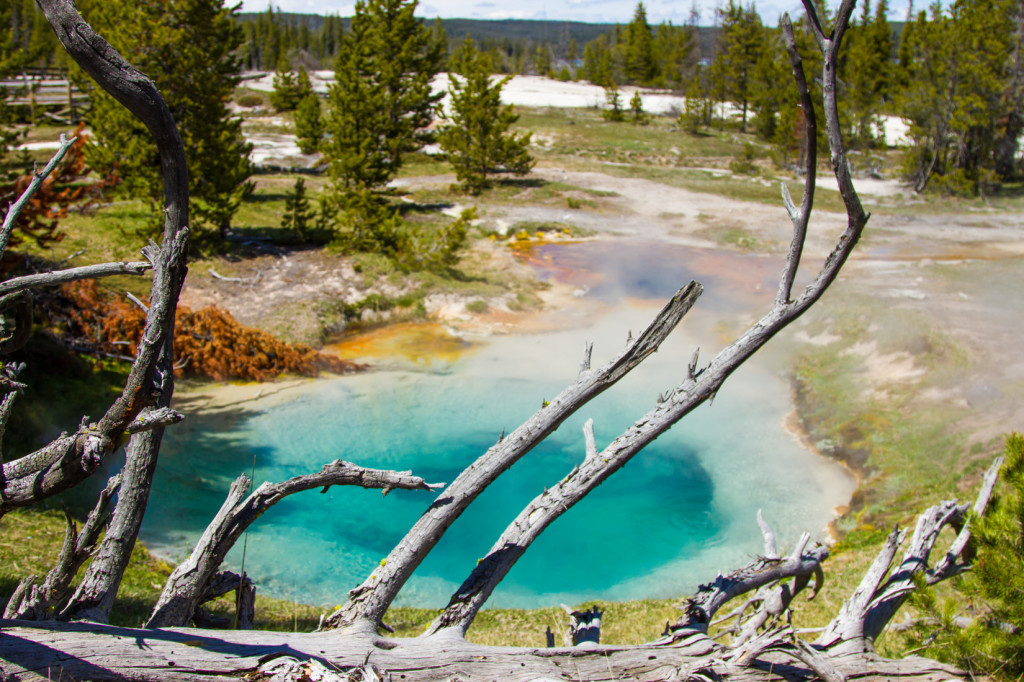 We spent about an hour here just taking pictures, viewing the wildlife, and taking in the exquisite view. Heading out of the parking lot onto your next destination, don't go back to the highway that you turned off of to get to Yellowstone Lake. Instead, take a right. If I remember correctly, there was a sign pointing towards Cody, Wyoming. I believe the sign said that it was 99 miles away. Don't worry, that's not where you'll go next, you'll just want to go that direction. This highway wraps around the lake and gives you a great view while you drive. It was another half hour to forty-five minutes to our next stop, but there are a few more places you can stop along the way if you want.
One of these was called "Mud Volcano" and another called "Devil's Breath." Basically, it was just a big pit of boiling mud that smelled bad. These were fun to stop and see, but we didn't bother spending too much time here. It was good to get out and stretch our legs, but we got back in the car and kept going.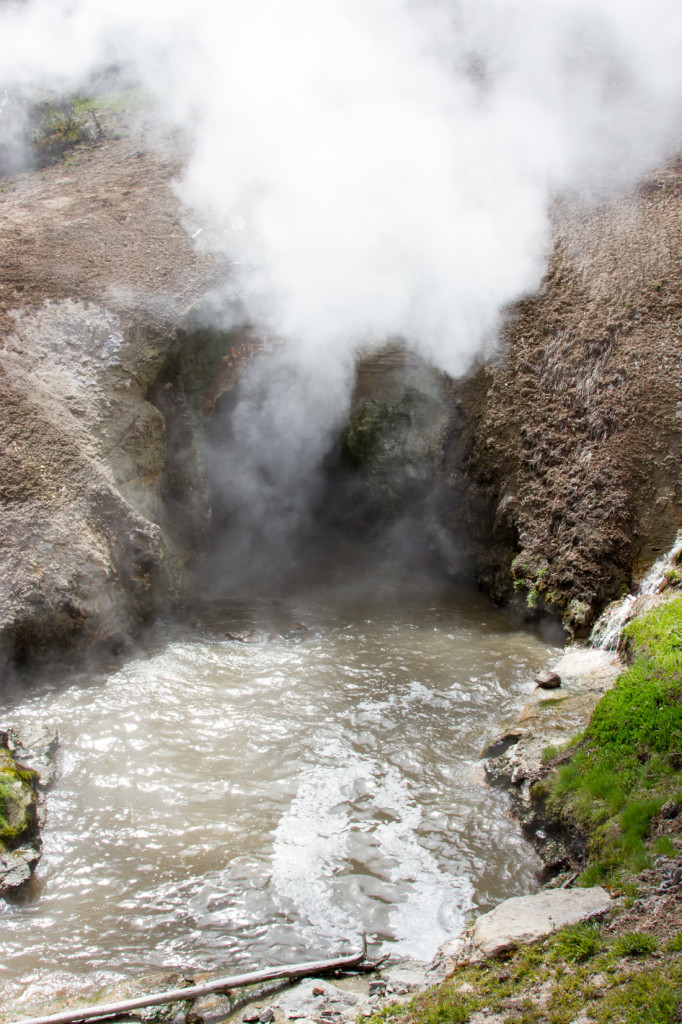 Another place we stopped briefly (VERY briefly) was called "Fishing Bridge." I thought it would be interesting. Don't waste your time. It was just that — a bridge. And people were fishing from it.
Unfortunately, after being in the park for a few hours, you almost start to become desensitized to the beauty all around you. Driving past some valleys, it was sad to say, "Oh. It's just another bison." But no matter how desensitized you've become, nothing can prepare you for the jaw-dropping views of the Grand Canyon of Yellowstone. Wow. Simply stunning. Follow the signs that lead you off the highway. After parking, you walk a few hundred yards to the view points. You can't help but take a hundred pictures. The chasm dropping beneath your feet is unreal and hard to take in. Off in the distance, you can see a giant waterfall pouring into the canyon that has undoubtedly been the cause of such an incredible sight, carving and digging away at the rock for thousands of years.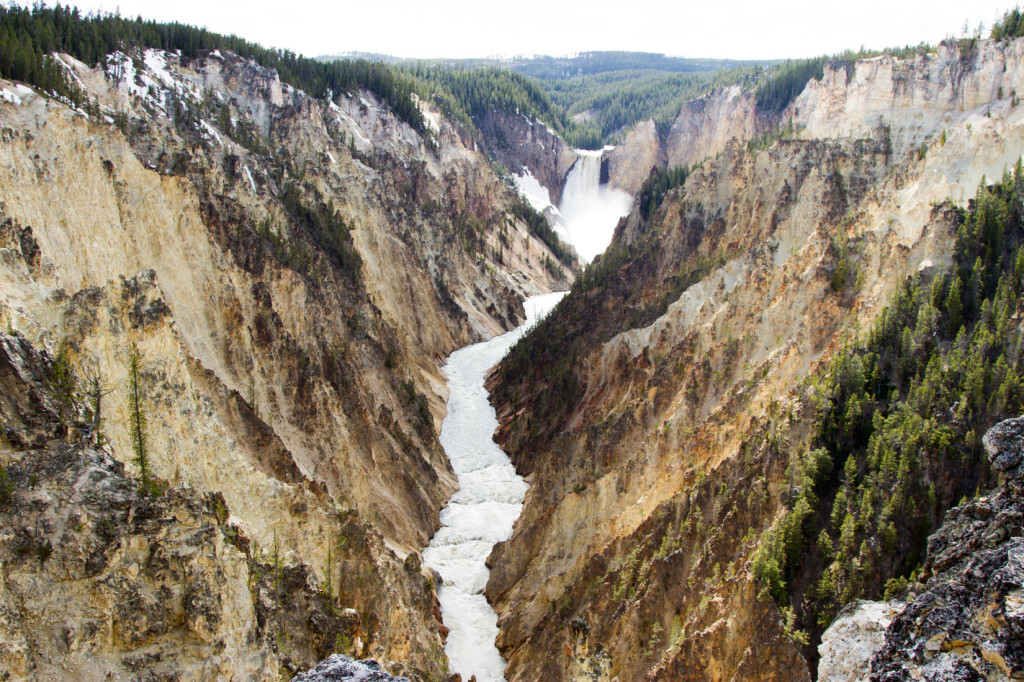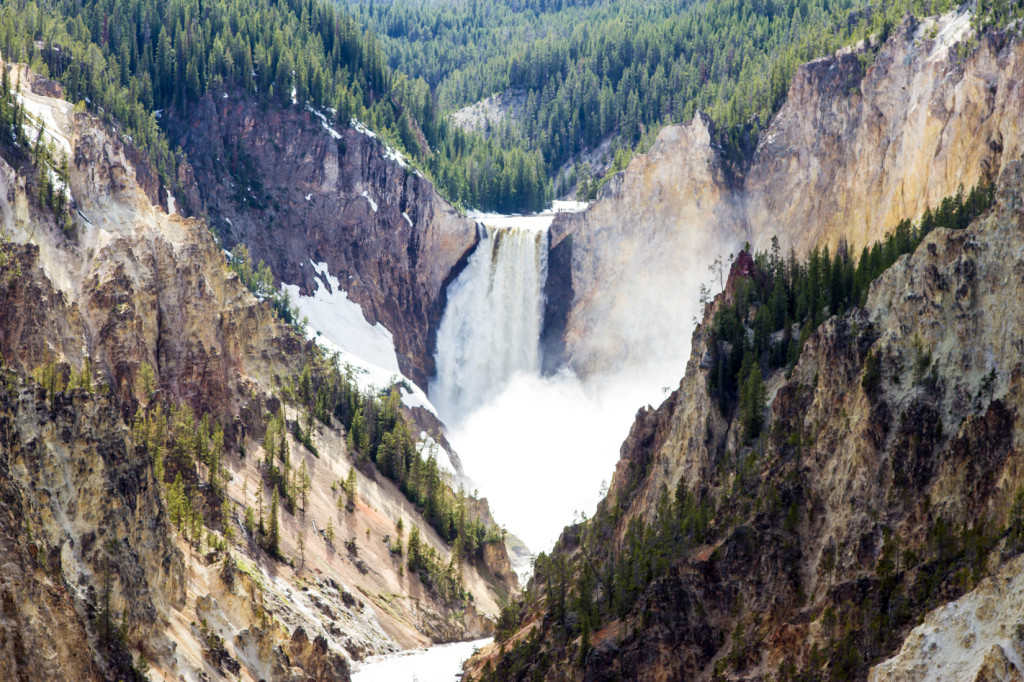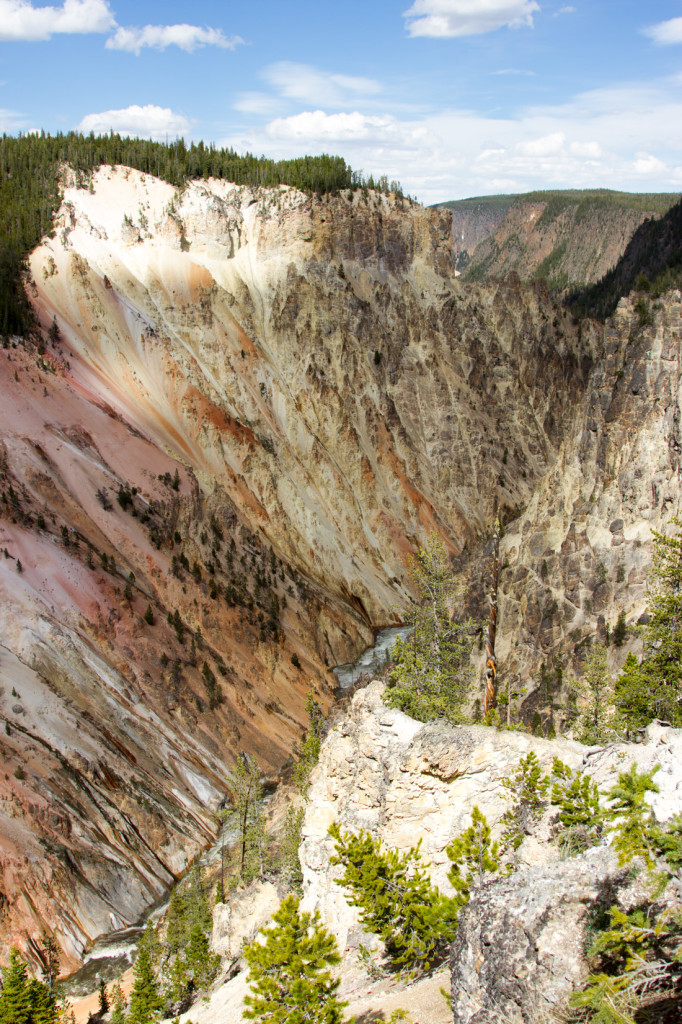 In the park, there are some more developed-feeling attractions, with food and restrooms. There were restrooms at this stop (that were very disgusting), but we started getting a little hungry, and there wasn't anything here. Another thing that shocked me was the high population of asian tourists. I simply couldn't believe how many there were. I'd say 75% of the people in the park were Korean or Chinese. One thing that took me by surprise was that they aren't as courteous as Americans. They didn't mind cutting right in front of you in line, or jumping in front of you to take a picture. By the end of the day, I just realized that this is part of their culture, and they didn't mean to be rude. Be patient. 🙂
As you continue down the highway, there are a few other turn-offs and viewing points for the Grand Canyon that will take you closer to the waterfall and give you a different viewing angle.
Our second-to-last stop was Tower Fall. After seeing the Grand Canyon and Yellowstone Lake, this stop is cool, but it's more of a "Well, that's neat. Okay, lets go." Like I said, it's hard not to be desensitized to all of the beauty in the park. We spent about 20 minutes here. In the parking lot of Tower Fall, there's a General Store off to the left side. When we went, there were signs saying, "Closed for the season," but I'm sure that when this is open, this is a great place to grab some snacks just to hold you off a bit longer until dinner.

Our very last stop was located in Mammoth, Wyoming. This location was much more developed than most of our other previous stops. If you're looking for a place to gas up, grab a hotel, or get dinner, this would be the place to do it. Undoubtedly, everything here will be largely overpriced. Pulling into Mammoth, we were a little confused as to where the Hot Springs were. When you come to the "T" in the road, go to the left, and a little ways down the road, you can't miss them.
These were neat to see, but because it was our last stop, we were all pretty tired, and that made for a lot less of a "Wow" factor. One mistake we made was taking the boardwalk all the way up to the top of the springs. We thought it would be really rewarding at the top; it wasn't. In fact, when we got to the top, we found that there was a parking lot up there, and you could easily drive up there instead. Whether or not you're tired, it's still one of the "must-see" parts of Yellowstone. Also, this place STUNK. Lots of places we had visited that day smelled like sulfur, but the smell here was so strong that the girls we were with started to feel a little nauseas.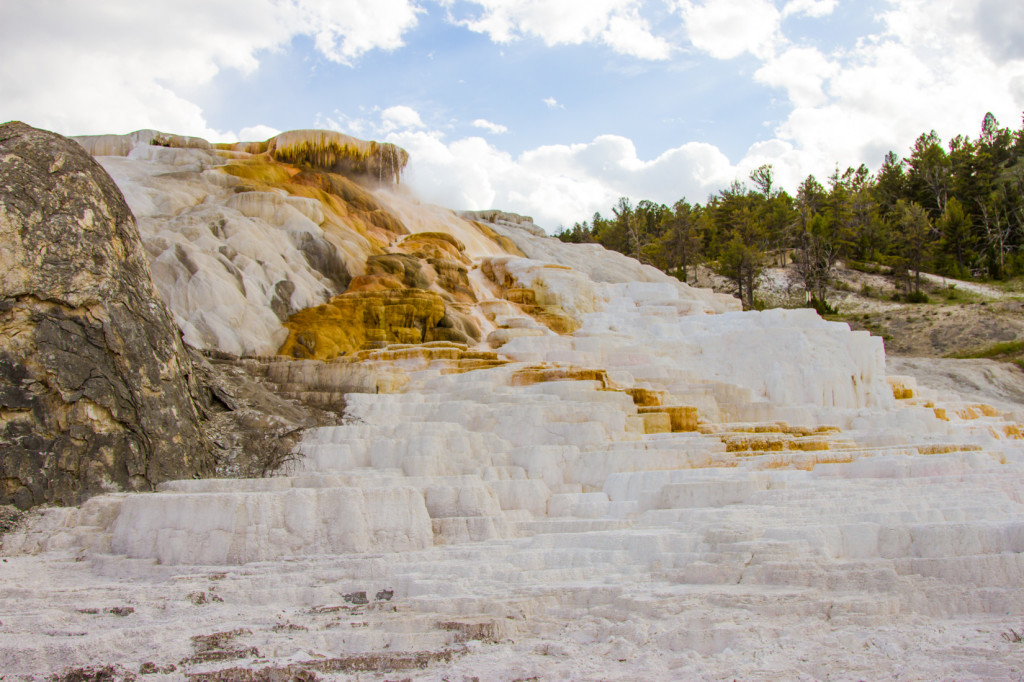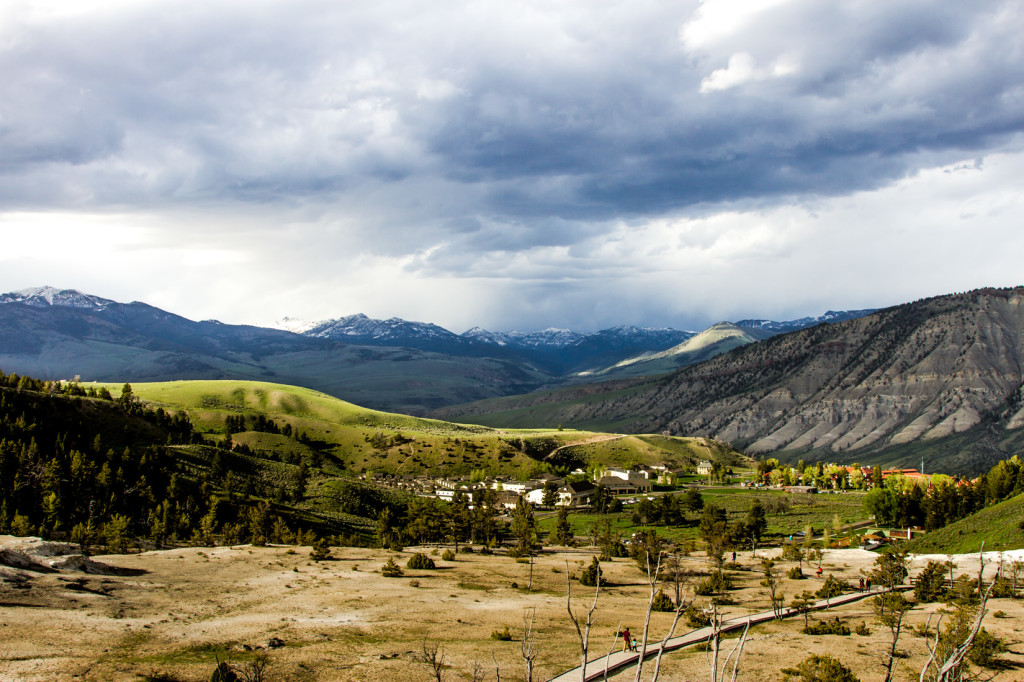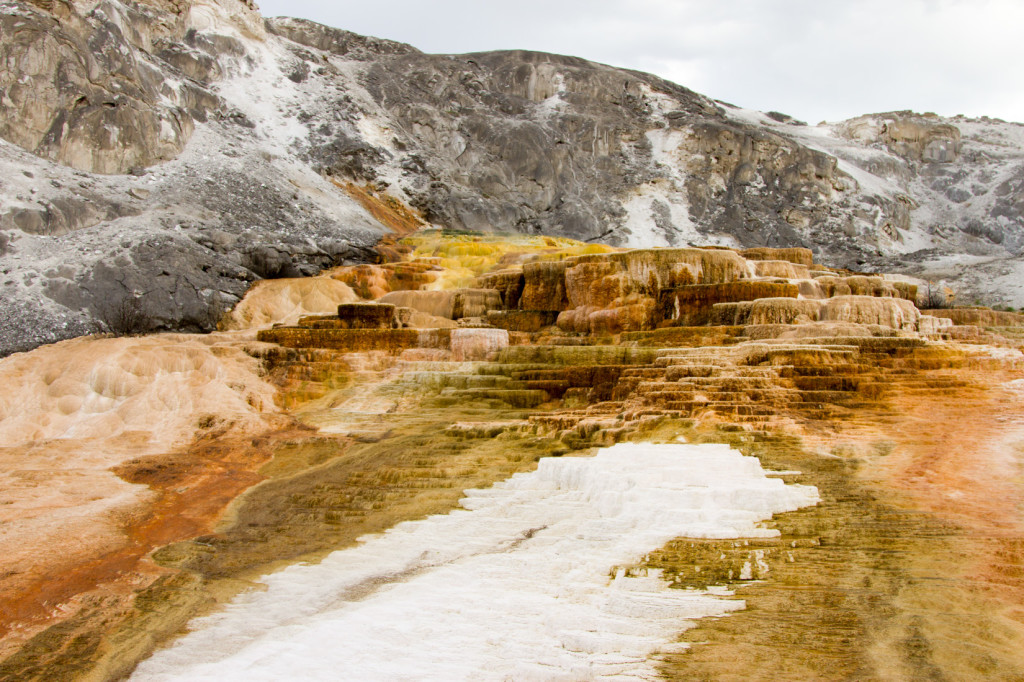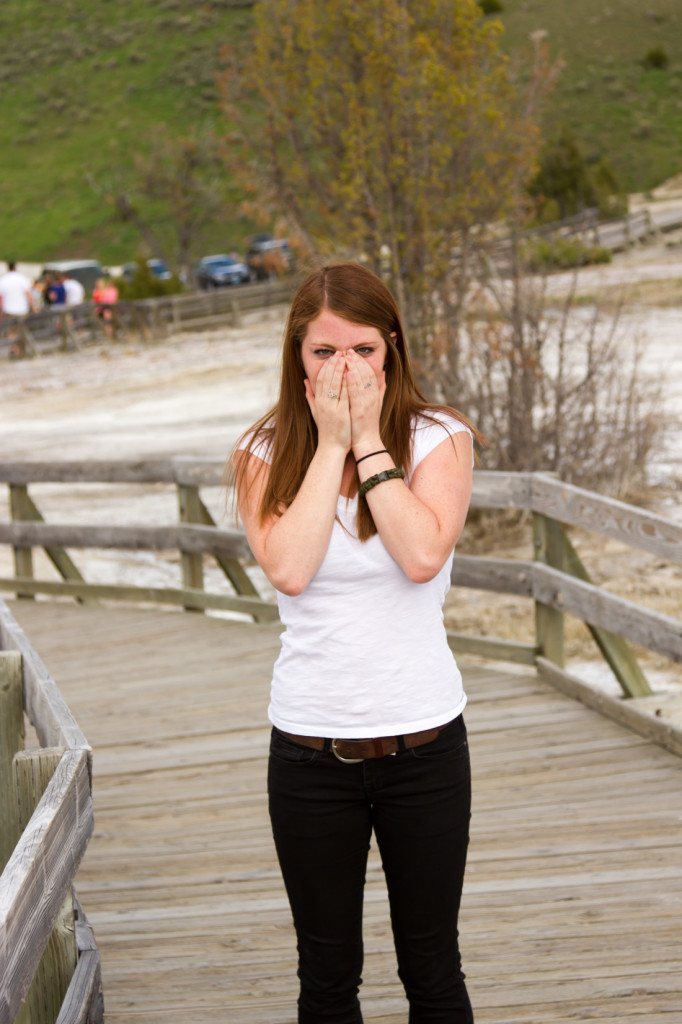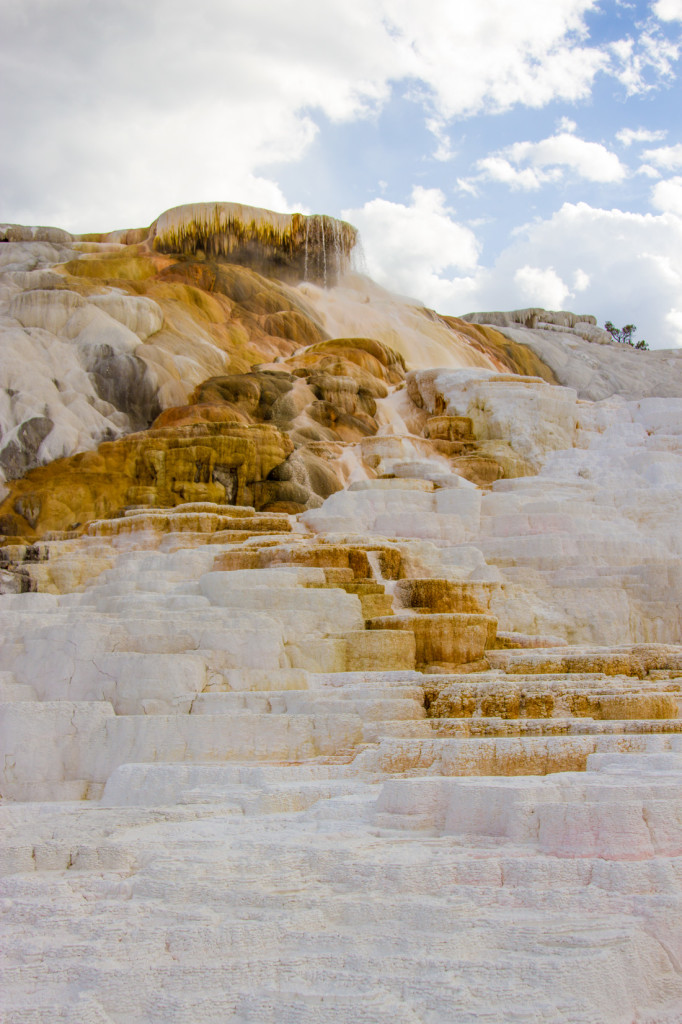 All in all, we had an incredible day. People always say, "One day in Yellowstone simply isn't enough. It will only make you want to come back. You'll have to spend at least a week to get the full effect." I disagree. After one day in Yellowstone, we all felt very satisfied. If you keep heading through Mammoth, it'll wrap you around in a big circle that will take you straight back to the West Entrance, which was where you entered the park. Hopefully this helps to give you a little bit of an overview of Yellowstone National Park before you make your trip. This was just our experience, and I hope my opinions haven't ruined anything for you. If you're looking to do Yellowstone in just one day, this is my recommendation on the best way to do it.
And last, but not least, I couldn't help but post this picture. You find some interesting people in Yellowstone.

Happy touring!
Map: